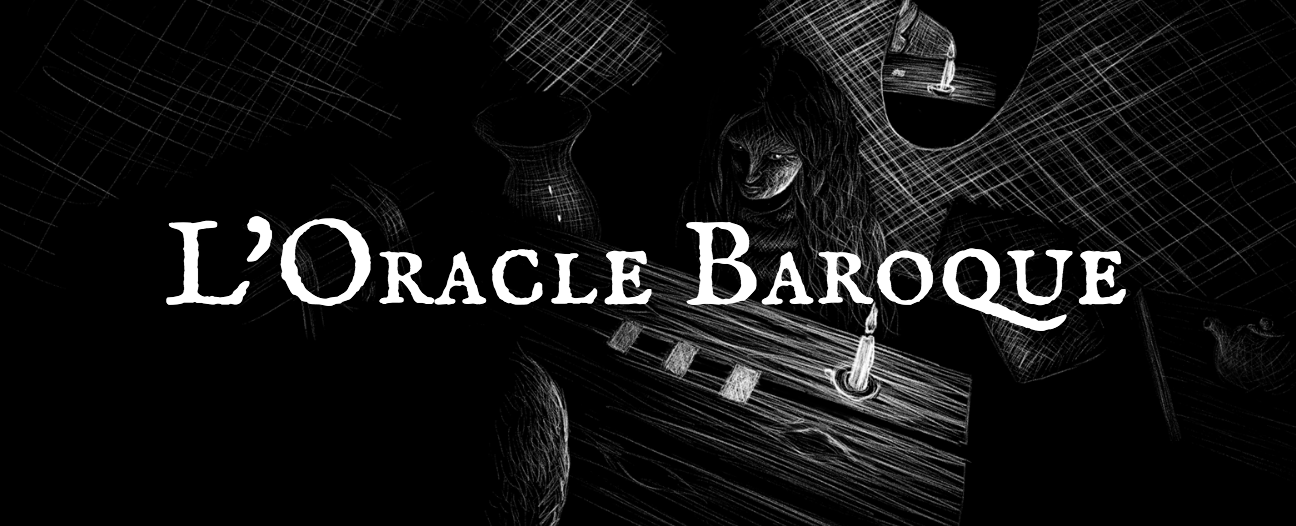 L'Oracle Baroque
Mystery Awaits
Paris, 1754. The French monarchy is at the height of revelry. Garish displays of gaudy ornamentation, passionate romances, and emotional and raucous theater shows dominate the social life of the landed elite. The peasantry grows restless after decades of oppression and poverty, the clergy attempt to return the city to the morals of old, and talented artisans and merchants peddle their wares to the opulent upper classes. None of them realize that a new, evil force is loose in their city. A powerful darkness has crept into the Parisian catacombs, and only a few people know of its existence. It may come down to you to discover its secrets, tear down the shroud of the occult, and stop the destruction before it is too late.
What is this game?
L'Oracle Baroque is a tabletop RPG for 2 to 6 players that emphasizes prophecy, divination, spiritualism, and mystic powers. You will play as naïve Parisians who get thrown into a chaotic world of magic and danger. Some will thrive in this environment, but most will fall into the darkness.
What do I need?
In order to play you only need the rulebook and a copy of a standard Rider-Waite style Tarot deck. You can buy one from your local occultism store or from Amazon. You will also need 2 to 6 people (one of whom will act as the Hand of Fate and run the game).
How long does it take to play?
Short answer: as long as you want. Long answer: this game can typically be broken up into Stories and Sessions. A Session is a single sitting and can take from two to six hours depending on your stamina and schedule. A Story spans multiple sessions, and should be a contained arc of narrative progression.
What else should I know?
This game was originally written as part of the #LegacyJam, and the version written for the jam will always be free to download. The spiritual successor for this game, named Révolution, is now available over at https://typhosgames.itch.io/revolution if you are interested in seeing the continuation of this project.
The text of this game is released under Creative Commons License 4.0 BY-SA. The images and illustrations are copyright 2019 Typhos Games.
Download
Click download now to get access to the following files:
L'Oracle Baroque - Legacy Jam.pdf
5 MB