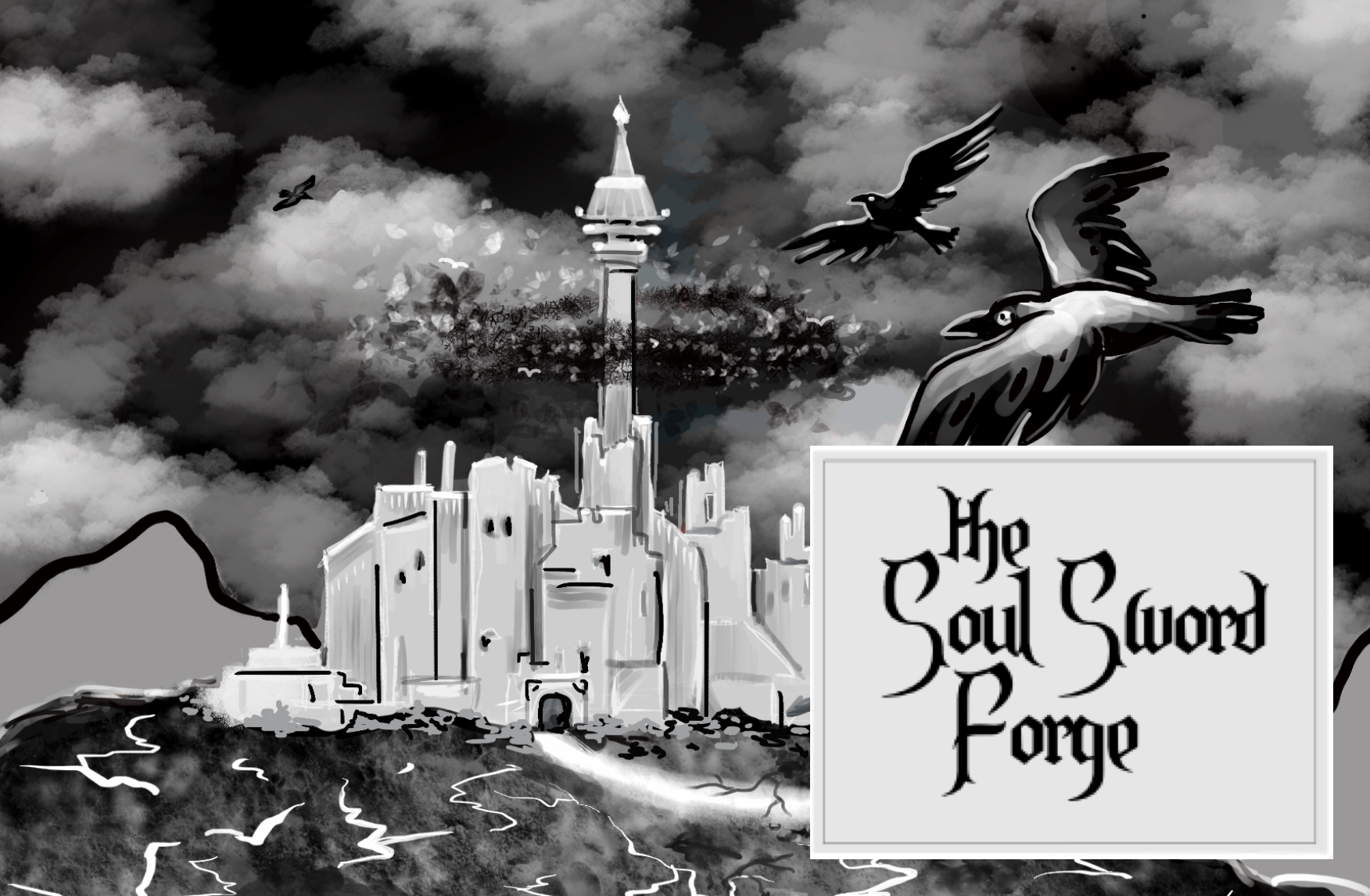 The Soul Sword Forge
The forge is abandoned, will you be the ones to claim it?
Castle Rex has lain abandoned these last 20 years. Since the Creator disappeared and the great war ended without resolution, no one has been able to retain control over the castle. Stories of ancient magics, terrific treasures, and a forge of creation itself have lured you into the castle depths. Will you make it out alive?
The Soul Sword Forge is a tabletop RPG adventure module for Trophy Gold and Basic/Expert Dungeons & Dragons. The themes and aesthetics are heavily inspired by the tarot suit of swords, and focus on themes of loss, imprisonment, and greed.
Product Features
The Soul Sword Forge is compatible with:
Trophy Gold by Jesse Ross. Trophy is a game of desperate treasure hunters delving into the depths of a world that doesn't want them. More information about Trophy can be found at TrophyRPG.com.
Old School Essentials and other retro-clones of Basic/Expert D&D
Over 100 OSR compatible games. The setting and content is particularly in line with the games MÖRK BORG, Maze Rats, and Best Left Buried.
Also included in this zine:
A set of rules for incorporating tarot cards at your table. For Trophy Gold, tarot cards can replace your hunt tokens and make moments more evocative. For old school gaming, use tarot cards to make wandering monsters more interesting and combat more dynamic.
New magic items and encounters. Items like the the Cobinding Manacles bring out the tensions between the characters, while cursed relics like Lady Evelyn's Reed Pipe force characters to decide between success and safety.
Additional city building choices to tie in with the Trophy campaign rules. Build the cursed city of Wiltburg together, and learn about its broken past as you explore its seedy underbelly.
A bestiary of a dozen thematically appropriate monsters for both systems. From silk-spewing centipedes to the lingering embers of ancient sorcerers, you will have no shortage of thematic encounters.
New character creation options for Trophy, including thematic backpacks, rituals, drives, backgrounds and careers.
Unlocked: More interior art from Ewerton Lua! Ewerton did the majority of the art for the Kickstarter and we are very excited to bring more of his work into the project
Beneath the Gates of Judgement by Josh Hittie! This is an entire new Trophy Dark incursion. Josh is a veteran Trophy designer and brings a lot of great content to the table. His incursion will be themed around the tarot card of Judgement, and will merge seamlessly with The Soul Sword Forge to create a campaign.
Physical Copies
Physical copies can be ordered on the Typhos Games website while supplies last:
Purchase
In order to download this adventure you must purchase it at or above the minimum price of $8 USD. You will get access to the following files:
The Soul Sword Forge.zip
269 MB
Community Copies
Support this adventure at or above a special price point to receive something exclusive.
Community Copies
Thanks to the generous folks over on Kickstarter, there are a significant number of community PDF copies available for anyone who can't afford the full product. Please avail yourself of these copies if you are financially burdened or otherwise incapable of purchasing this adventure.